Are you a Counter-Strike 2 player looking to improve your sharp shooting skills? If so, then mouse settings are the key to success! This article will provide tips and tricks for optimizing your mouse settings to maximize accuracy with every shot. Whether it's flicks or long-range shots, will show you how to adjust your mouse sensitivity and acceleration levels for maximum precision.
We also share some of the best ways to practice aiming and get used to a new configuration quickly. With our help, you can become an even more lethal sharpshooter in no time!
Mouse Sensitivity Settings
When it comes to sharp shooting in Counter-Strike 2, the mouse sensitivity settings play a key role. The correct settings allow you to move the crosshair in a smooth and precise manner; enabling quick reactions and accurate shots.
Depending on how fast you want your cursor to move across the screen, different sensitivities will be required for each player. If set too low, your mouse movements may feel sluggish while setting it too high can make aiming difficult due to over-sensitivity.
Striking a balance between these two extremes will provide optimal performance when playing Counter-Strike 2. When adjusting mouse sensitivity levels within the game, several factors should be taken into consideration such as DPI (dots per inch), polling rate, and acceleration/deceleration curves which all contribute to finding an ideal setting that suits one personal preference as well as improving accuracy and reaction times during battle scenarios.
Additionally, some gaming mice have advanced software with additional features allowing users even more control over their precision settings so experimentation is recommended before committing to any particular setup for regular use.
To sum up, mouse sensitivity settings are essential for achieving sharp shooting success in Counter-Strike 2; however, finding the right configuration requires patience and practice since every individual has different preferences when it comes to controlling their cursor speed onscreen – this is something only experience can help improve upon!
Crosshair Position and Size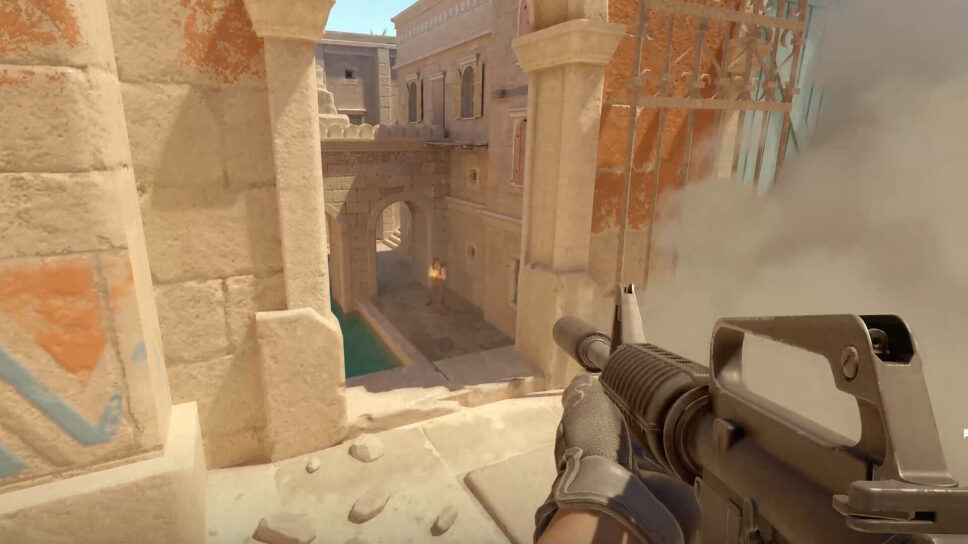 The crosshair position and size of a Counter-Strike 2 mouse settings play an important role in sharpshooting. It is essential to ensure that the crosshair is properly aligned and sized to facilitate improved accuracy when aiming and firing at targets.
The ideal position for your crosshair should be between the center of your screen and slightly above it, allowing you to have a full view of what's ahead without obscuring any potential targets. As far as size goes, smaller sizes are more accurate but larger sizes can make target acquisition easier; finding a balance between the two is key.
Experimentation with different combinations may be necessary before settling on one that works best for you and provides maximum precision when aiming at enemies.
DPI and Polling Rate Adjustment
Adjusting the DPI and polling rate of your mouse in Counter-Strike 2 is essential for sharpshooting. To make sure you're getting the optimum performance, it's important to consider both settings when customizing your gaming peripherals.
DPI stands for 'dots per inch' and refers to how many pixels your cursor will move onscreen with each movement of the mouse. The higher the DPI, the faster movements will be registered by the computer.
However, if set too high then accuracy can be compromised as subtle changes in direction may not register correctly at speed. A lower DPI setting allows more precise control over small movements but requires larger physical movements from you to achieve maximum sensitivity across a wider screen area.
The polling rate, or report rate, measures how often a mouse sends data back to a computer (in Hz). Most modern mice have adjustable rates between 125Hz and 1000Hz which are suitable for most gaming scenarios however this can vary depending on what type of peripheral device you are using; some mice may offer multiple polling rates or even an adjustable slider so that gamers can find tune their setup according to their playstyle preferences.
By understanding these two settings and making adjustments accordingly, gamers can customize their experience whilst playing Counter-Strike 2 – ensuring they get smooth and accurate gameplay every time!
Acceleration and Angle Snapping Options
When it comes to sharp shooting in Counter-Strike 2, the mouse settings you choose can make a huge difference. Specifically, acceleration and angle snapping options play a crucial role.
Acceleration determines how quickly your cursor moves across the screen when you move your mouse faster or slower. Angle snapping adjusts how closely the cursor follows your movements; with angle snapping on, for example, straight lines will be followed more precisely than if it were off.
It is important to experiment with both of these features to find an optimal setting that works best for you and allows for fast and accurate shots.
Conclusion
.
After analyzing all the mouse settings for Counter-Strike 2, it can be concluded that the m0nesy cs2 config is one of the best configurations when it comes to sharpshooting. With its DPI and sensitivity settings, you can achieve maximum accuracy and precision in your aim by making small adjustments according to your needs.
This configuration provides a great balance between speed and accuracy which is essential for achieving victory in this fast-paced game. It enables players to take advantage of their reflexes while still being able to focus on aiming precisely at targets with ease.